Best Dental Implant Center In Jamnagar
We have expert team of specialist dentists with years of experience in Dental Implants
We have years of experience in Dental Implant procedure and our expert team of specialist doctors make sure that you get best results in Dental Implant in Jamnagar
Benefits of Dental Implants
Dental implants reduce the load on the remaining oral structures/teeth by offering independent support and retention to crowns, bridgework and overdentures.
Dental implants preserve natural tooth tissue by avoiding the need to cut down adjacent teeth for conventional bridgework.
Dental implants will preserve bone and significantly reduce bone resorption and deterioration that results in loss of jawbone height.
Discomfort During Dental Implants Procedures
Of course, dental implant procedures are surgery, and all surgical procedures do involve some amount of pain and discomfort. However, since anesthesia is administered during implant procedures, most patients experience minimal discomfort during simple implant placement. Patients who are having bone grafts or other supplemental procedures done may experience a bit more discomfort than the average simple implant patient, and some surgical techniques lead to more discomfort than others.
Conventional Dental Implant
Dental implant is a titanium, zirconium or PEEK post which is surgically placed into the jaw bone beneath the gums in order to replace root of missing tooth. Implant once fitted into the jaw, is further covered with crown or cap to replace the missing tooth.
Unlike dental bridges, implant saves the adjacent healthy teeth from being shaved and filed out as it doesn't need to be anchored to the neighbouring teeth for support. Dental Implant integrates with the underlying jaw bone upon its placement and thereby looks and acts like your own natural tooth. Moreover, it also prevents the bone loss beneath the missing tooth and keeps the bone intact. It enables you to eat your favorite food without slipping away or hindrance.
Perfect Dental® is one of the best dental clinics in Jamnagar and therefore we use only the best implants to ensure maximum patient satisfaction. We use world's leading brand implant, so one can avail post treatment services in any part of the world which is not possible with local brands. We have a team of highly skilled and experienced Implantologist, Oral Surgeon, Prosthodontist and Periodontologist who ace in performing implant surgeries. High success rates of implant surgeries make us one of the best implant center in Jamnagar. Moreover we use a strict sterilization and disinfection protocol which eliminates any chances of infection or cross contamination. With amalgamation of latest implant technologies, highly skilled team of dentists, Hi-tech dental center and best brand implants, we aim to place implant which lasts you for a lifetime!
Implants can be used to replace any number of missing teeth from single to full mouth:
If you are only missing one tooth, a single titanium implant is implanted, which supports a single crown.
If you are missing several teeth, multiple tooth implants may require. The exact number needed will be determined after assessment of mouth.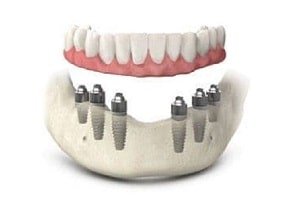 If you are missing all of your teeth, an implant supported fixed denture or bridge is option for you. Replacement of teeth typically needs 6 (All-on-6) to 8 implants to support prosthesis.
It's a unique concept in which full mouth restoration is done on two tilted and two straight implants without any additional surgeries like sinus lifting or nerve repositioning. The difference, however, is that these implants are often used when you do not have enough bone in your jaw and so not possible with regular dental implants.
If you are looking for best aesthetic result, we provide variety of aesthetic options at each level to ensure natural look but that is expensive as compared to regular one.
Other evaluations required during the Implant placement procedure
Bone graft procedures might be required in case of bone atrophy. Extraction of compromised teeth, which might pose a threat to the success rate of the implant could be required. Also, radiographic evaluation like x-rays and CT scans is almost always required before Implant surgery.
Advantages Of Having Dental Implants
Implants improve your overall appearance and prevent facial sagging and premature ageing.
Implants fuse to the jaw bone upon their placement and thereby look and act like your own natural teeth.
Unlike ill-fitting dentures which impair your speech, implants enable you to speak properly without lisping away.
Implants do not slide away like dentures and enable you to eat your favorite food without slipping away or causing any hindrance.
Unlike bridges, Implants save the adjacent teeth from grinding, as they do not need to be anchored to the neighboring teeth for support.
Implants prevent the bone loss beneath the missing teeth and keep the bone intact.
Owing to their stability, implants provide support to the single tooth as well as dental bridges and dentures also.
If missing last tooth, there is free end and it is impossible to make a fixed bridge without implant.
Factors Affecting Implant Costing:
Brand And Type Of Implant Placed By The Dentist
This plays a crucial role in reducing the failure rates of the implant. The best brands have exceptional durability in contrast to brands that are cheap with a significantly high failure rate. The type of abutment, the material of the artificial prosthesis employed also is an important factor.
Experience Of Dental Surgeon
Not so experienced dentists will cost you the minimum and may employ implant brands and placement techniques that might have a deteriorating effect. Therefore, always opt for highly efficient and well-experienced implant dentist for best results.
Number Of Implants To Be Placed
This depends on the number of missing teeth. Greater the number of missing teeth, higher the number of implants and therefore higher the overall cost.
Location Of The Implant Dentist
It is not practical to undergo a treatment in a country where you do not reside. This poses a problem only if you opt for a dentist who employs local implant brands which are not used by the good implant dentists. If you opt for a dentist who employs best implant brands employed worldwide, you could continue the post-operative services at the place you reside.
How will you choose a good Implant Dentist in Jamnagar?
With a plethora of Dental Clinics in Jamnagar, choosing a good implant dentist in Jamnagar becomes a cumbersome task. Visit a number of clinics if possible, before reaching a conclusion; or you could gather information about them through Internet. The foremost thing you are supposed to be looking for is that the dentist you are opting for is a licensed dentist. A team of effulgent and experienced dentists is another important factor. Before visiting the Implant Dentist; Prepare a set of questions after thorough research, select the clinic that uses latest upgraded technology, has skilled Implant Dentists, has Proficient Implant Prosthesis Specialist, go through the Google reviews of their dental clinic or hospital, uses the best implant brands along with being economical, and go through the reviews and testimonials of the patients who have undergone implant surgery at the Dental Hospital you are planning to opted for.
Five Reasons To Choose Perfect Dental® For Dental Implants
We use world's No.1 implant brand.
Dental implant success rate >97.4 %.
Dental implants at most affordable rates.
Robotic guided implant surgery for precise painless placement.
World-wide available implant brand, life time maintenance possible in home country.
Perfect Dental® in Jamnagar, keeps upgrading the dental center with the latest technologies. The first important factor for any dental procedure is the sterilization. We employ a stringent 5 step sterilization protocol that meets the ADA and CDC Guidelines. We are the only Dental Center in Jamnagar having specially designed patient operatories in order to prevent cross-contamination which is very crucial, especially in surgical procedures like Implant placement.
We have a team of licensed and experienced Oral Surgeon, Implant Surgeons and Implant Prosthesis Specialist for best treatment outcome. Moreover, the staff members employed at our dental setup are courteous and thoroughly trained by experienced doctors.
Several visits to your dentist or dental specialist may be needed until the process is done.
Checkups will be scheduled during the following year so your dentist can be sure your implants are working properly.
You will need to take very good care of your implants.
Implants can cost more than other kinds of replacement teeth but in most cases this is a one-time cost, unlike other kinds of tooth replacement procedures.
Although rare, possible complications due to dental implants include bleeding, infection, numbness or injury to nearby muscles or the sinus cavity. In some cases, the implant may not be successful because it didn't bond to the bone.
Following is a guide to what you should expect and what care or precautions you should take after an implant is placed in your mouth:
It is common to experience mild pain and/or swelling for approximately 3 days. If pain and/or swelling persist for more than 3 days, please contact us.
If you experience severe pain and/or swelling, contact us immediately.
Use ice pack or cold pack as directed for reducing swelling.
Small blood spots while spitting or minor bleeding for a day or two is common after dental implant surgeries. If there is a profuse (excessive) bleeding, please contact us immediately.
If the procedure was done under local anesthesia, you may feel numbness for 3-4 hours in certain parts of your mouth and face. If numbness persists for more than 12 hours, please contact us.
You may experience facial muscle soreness due to excessive opening of mouth. Contact us and we will determine if you need any medication for the same. Use warm towel pack or hot water bag to apply on area of muscle soreness only after 72 hours.
Practice opening and closing of mouth (unless advised otherwise) after 24 hours. It is essential to keep your facial muscle moving.
If you have been given sutures (stitches) you will have to come to our dental center after 7 days for its removal, unless advised otherwise.
What Care Or Precautions You Should Take After Dental Implant Placement Surgery
If you have been given the gauze dressing then keep the gauze dressing pressed with your opposing teeth or jaw for 1 hour.
It is essential to keep the gauze dressing pressed so do not speak or try to eat or drink anything for 1 hour till gauze dressing is in mouth.
Remove the gauze dressing exactly after 1 hour of its placement.
Do not go to sleep while gauze is in mouth.
Once you remove gauze dressing after 1 hour and if the bleeding has stopped, you can take 1 cup of ice cream (plain vanilla is preferable), juice or milkshake and take medication as directed to avoid pain after the anesthesia wears off.
Once you remove gauze dressing after 1 hour, if there is persistent profuse (excessive) bleeding, place a new gauze dressing and keep it pressed with your opposing teeth or jaw and contact us immediately.
Avoid hot food and drinks like very hot tea or coffee for first 24 hours and preferably 48 hours of dental implant surgery.
Eat soft and cold diet that does not require too much chewing.
Avoid crunchy foods like chips for 1 week.
Do not use straw for drinking any liquids for 48 hours.
Do not drink carbonated drinks for 1 week.
Use opposite side of your mouth for chewing and not the side where dental implant surgery is done for at least for 48 hours.
If surgery was done on both sides of mouth or full mouth, for the first 48 hours take grinded food processed in a grinder so that you can swallow it without much chewing and start taking regular soft diet after 48 hours of surgery.
Avoid smoking and tobacco chewing strictly for first 48 hours.
Do not spit, rinse or gargle for first 24 hours after surgery.
If anesthesia was given in lower jaw then please avoid eating anything until the anesthesia wears off and the numbness is gone.
Do not brush or floss for the first 24 hours after surgery.
Continue gentle brushing and flossing twice daily only after 24 hours of procedure. Care should be taken to avoid rinsing forcefully after brushing. Good oral hygiene is a key to success of treatment.
Gently rinse your mouth with water after every meal after 48 hours of surgery.
You should "lay low" for one to two weeks. Minimal activities with bed rest are recommended. Do not work out at the gym or play sports activities for at least 3 weeks.
The surgical sites will take a few weeks to completely heal up. However you should gradually return to normal function within one to two weeks.
If you have been prescribed any medication, take it regularly according to prescription and do not alter the schedule or duration of medication without consulting your dentist.
If you have been given sutures (stitches) care should be taken to not to pull them out while chewing and brushing.
You should contact us immediately if you notice any of the following:
– Bleeding is profuse (choking on blood).
– Bleeding is continuous (still changing bright red gauze after 24 hours).
– Severe pain not well controlled by medications.
– Rash, hives or difficulty breathing after taking the medications that suggest an allergic reactions.
– Persistent fever lasting more than 24 hours.
– Discharge coming out from the surgical site.
– If dental implant was placed in upper jaw and when you drink any fluid and it is coming out of nose.
What Care Or Precautions You Should Take After You Have Received Teeth (Prosthesis) On Dental Implant
Do not eat or drink anything for 1 hour.
Do not rinse you mouth with water, mouthwash or any other liquid for 1 hour.
Resume regular brushing and flossing after 1 hour of receiving teeth (prosthesis) on your dental implant.
You may feel that your bite is uneven and there is something on biting surface of your teeth while chewing. If this feeling does not go away within 1 day please contact us immediately as you might have high points which may require little adjustment to give you maximum comfort while chewing.
After the cementation of teeth on dental implant, it is very essential to do gum massage for at least 15 days.
If you have been prescribed any medication, take it regularly according to prescription and do not alter the schedule or duration of medication without consulting your dentist.
The gap in the cost of dental implants along with the quality of dental services provided in India as compared to the other countries is the reason why people from all over the world travel to India to get their dental implant treatment done. Employing international standards and protocols become the core to achieve success at an International level and become the preferred dental tourism destination.
Perfect Dental® is the best dental clinic in Jamnagar and our team of specialist doctors is highly skilled and experienced best dentists in Jamnagar. We have a highest success rate of 97.4% in Dental Implant Placement.