Digital Smile Design At Perfect Dental® In Jamnagar
We Love improving smiles!!

 Did you know that 47% of people judge your personality based on your smile. Smile designing at perfect dental® injects a new life into your smile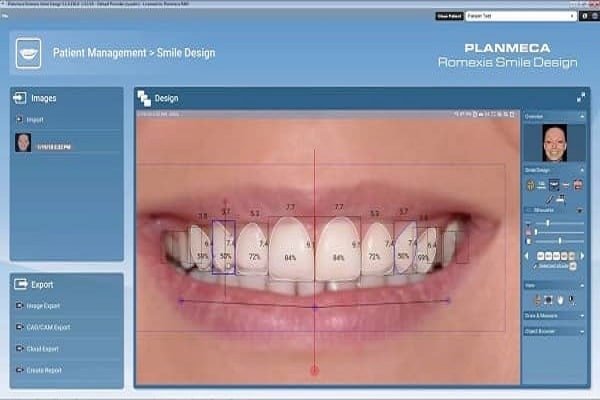 All our procedures are pain less and anxiety free, ensuring maximum patient comfort. Every smile is unique in its own way and therefore requires a different treatment option for its fixation. Our team of specialist doctors and cosmetic dentist in Jamnagar have successfully imparted beautiful smiles to the VIPs and further aim to dramatically ameliorate every flaw to bring out the beautiful luminous smile that you truly deserve.
Our smile design software allows us to manipulate the position, shape and dimensions of each tooth individually to achieve the optimal look and fit for our patient. Our digital smile design software is ideal for simulating smiles, planning treatments and communicating efficiently.
We Actively Involve Patients In Their Smile Designing
Establishing and explaining realistic expectations is easy with the our smile design software. When patients see a visualisation of their new smile before committing to their treatment, they feel engaged and included right from the start. Our patients can make better decision about their smile transformation and we can achieve the smile that our patients always wanted.
Why It Is Important To Improve Your Smile?
A beautiful radiant smile is the key to anyone's heart. Flashing smile would instantly brighten up your day as well as of those around you. A beautiful smile will give you the confidence to face the everyday challenges head on and boost your self-confidence to another level altogether.
Maligned, malformed, crooked or yellowish teeth often make you self-conscious and bring embarrassment. This is where smile makeover comes to the rescue. It can do wonders and completely rejuvenate your teeth and address all your cosmetic concerns. A smile makeover not only overhauls your aesthetic issues but also fixes your overall oral health and provides with hearty teeth and gums. It beautifully transforms your smile and makes you look much younger.
The Digital Smile Designing Software
The digital smile designing software is a digital planning tool for aesthetic dentistry, in which the evaluation of the esthetic relationship among the teeth, gingiva, smile and face is obtained through lines and digital drawings that are inserted on the facial and intraoral photographs of the patient, wherein you can foresee the final results of your procedure before actually undergoing the treatment. It not only gives you overall idea of the treatment but also enables you to put forward your requirements and expectation from the treatment. We create a digitally printed mock up so that one can literally try on the smile you always wanted.
What Can We Fix In Smile Designing?
During smile designing or make over, we can fix a number of dental defects like discolored teeth, crooked teeth, gaps between teeth, missing teeth, chipped teeth, gummy smile and misshapen teeth.
We also provide non-invasive bite correction to correct a misaligned bite without resorting to surgery. These are non-surgical techniques which are used to correct a malocclusion effortlessly, without needing to submit to invasive and sometimes painful surgery.
In some cases, dental problem affecting the entire mouth requires building or replacing all of the teeth present, which can be fixed by full mouth reconstruction procedure. Full mouth reconstruction involves combination of various dental procedures like veneers, crowns, braces, aligners, teeth whitening, crown lengthening, gum contouring, gum de-pigmentation and dental implant. We incorporate smile designing here also in order to inject a new life into your smile.
Advantages Of Using Digital Smile Designing Software:
Personalized Designs With Patient Specific 2D-Image Overlays
We import 2D images of the patient's lips, teeth and smile to software to design restorations that exactly suit the patient's personal look.  Apply 3rd party image manipulation tools to mask away the teeth, and align lips and new teeth designs together as your perfectly personalized design guide.
High Aesthetics With Generic 2D – Design Templates
Our Dental Smile Design System supports 2D–image libraries that help us achieve astounding aesthetics, even without pictures of the actual patient's smile. We select from a variety of smile-guides and design templates or add our own to recreate complete smile compositions to apply with your restoration design.
Before And After Visualization In Software
In our Advanced Smile Designing Software we can continuously do interchanging between situation views through gradual fading in-and-out, technicians, dentist and patients are easily able to detect even the smallest alterations and smile details for optimal comparisons.
Perfect Dental® is the best dental clinic in Jamnagar and our team of specialist doctors is highly skilled and experienced best dentists in Jamnagar. We have a highest success rate of 97%.