Sterilization Of International Standards At Perfect Dental® In Jamnagar
We follow highest level of sterilization method available in the Medical and Dental practice. We have a very strict sterilization protocol and our standards are in-line with those laid out for practicing dentistry in U.S.A. and U.K.
We have adopted a "FIVE STEP STERILIZATION" protocol which insures that each and every instrument used in our clinic is thoroughly cleaned and all forms of microorganisms are completely eliminated or destructed and instruments are 100% sterilized. Our management team gives a "GUARANTEE" to all our patients getting treatment at Perfect Dental® as well as all the doctors working with Perfect Dental® that each and every instrument reaching procedure area is 100% sterilized and sealed and protected in a sterilization pouch which can be opened in front of the patient to assure them the sterility of the instruments.
Five Steps Sterilization Protocol At Perfect Dental®:
Cleaning is the removal of foreign material (e.g., organic material) from objects and is normally done by rubbing/scrubbing the soiled area with a brush and it is a simple, old and dependable method.  Surgical instruments should be presoaked or rinsed to prevent drying of blood and to soften or remove blood from the instruments. Also, if soiled materials dry or bake onto the instruments, the removal process becomes more difficult and the disinfection or sterilization process is less effective or ineffective.
Step 2: Visual Inspection
Validation of the cleaning processes is done by visual inspection of all instruments individually. If the instrument is visibly clean then it will go for more-deeper mechanical cleaning process of ultrasonic cleaning.
Step 3: Ultrasonic Cleaning
Thorough cleaning is required before high-level disinfection and sterilization because inorganic and organic materials that remain on the surfaces of instruments interfere with the effectiveness of sterilization processes.  Ultrasonic cleaning removes soil by cavitation and implosion in which waves of acoustic energy are propagated in aqueous solutions to disrupt the bonds that hold particulate matter to surfaces. This process is accomplished using water with detergents or enzymatic products. Ultrasonic cleaning is also used to remove organic material and debris from internal channels after brushing and when the design does not allow passage of a brush through a channel. Mechanical cleaning alone effectively reduces the number of microorganisms on contaminated equipment. Ultrasonic cleaning is the highest level of mechanical cleaning process available and once thorough cleaning of instrument is done the next step is packing and sterilization of instruments.
Step 4: Packing In Sterilization Pouch
Instruments are sealed in a sterilization pouch after thorough cleaning and then sterilized in autoclave. The sterilization pouch protects instruments from recontamination after its sterilization. The instruments once sterilized by autoclave are never touched with bare hands and are stored in a special container in sterilization pouch to maintain its sterility. We make sure that sterilization pouch is opened in front of the patient to ensure the sterility of the instruments.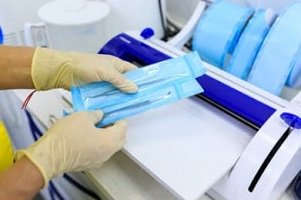 All instruments capable of withstanding high temperatures are steam sterilized under pressure in an autoclave. Autoclaving is the most dependable method of sterilization available in Medical and Dental Practice, where the instruments which were previously cleaned and packed in protective sterilization pouch are exposed to steam under pressure of 15 pounds at 121 degree Celsius for 15 minutes. With this method of sterilization all form of microorganisms including bacteria and viruses are destructed. The instruments once sterilized by autoclave are never touched with bare hands and are stored in special containers to maintain its sterility.
We make maximum use of disposables including water glasses, trays, gloves, face masks, suction tips, saliva ejectors, syringes and needles for local anesthesia and patient bibs etc. The cotton and gauze are also autoclaved before use. All equipment that is used in your mouth is completely sterilized in order to offer the best possible protection to each and every patient that comes into our practice.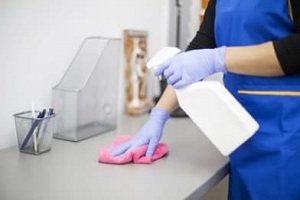 We use best surface disinfectant available in dental and medical field Bacillol® AF from Bode chemicals in Germany. The surface disinfectant is used after each and every patients for cleaning surfaces like dental chair, X-ray machine, table platform and majority of surfaces that we touch during treatment procedure.
We use Sodium Hypochloride solution for moping our entire dental center twice daily to prevent cross infection. We are so proud that Sodium Hypochloride was recommended by WHO during Covid-19 out break and we were already using it for moping long before this recommendation was made or almost from the establishment of our dental center in Jamnagar.
Highlights:
Best dental clinic in Jamnagar
Instruments are 100% sterilized
We make maximum use of disposables
Our method of sterilization is of international standards
Best sterilization of instrument in dental clinic in Jamnagar
Autoclaving is the most dependable method of sterilization
We follow five step sterilization protocol at Perfect Dental®
Sterilized instruments is a "GUARANTEE" to all our patients
All sterilized instruments are sealed and protected in a sterilization pouch
We follow highest level of sterilization method available in the Medical and Dental Clinics