Get A Beautiful Smile With Orthodontic Treatment With Braces
Our specialist orthodontist use latest technology and make sure that you get best results in orthodontic braces treatment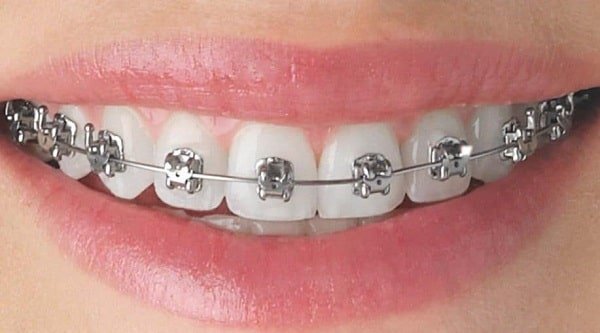 Braces are an appliance designed to fix malaligned or crooked teeth by slowly and steadily pulling teeth into the alignment to give straighter and beautiful smiles. They are used to rectify various flaws like crowding, overbites, deepbites, cross bites or any sort of malocclusion.
Before the commencement of the treatment, we do the Cephalometric, Casts and Photographic analysis to give you the best occlusal and aesthetic results. We are the only clinic in Jamnagar, providing a detailed and thorough discussion of the entire treatment before it begins.
Traditional braces are most commonly used braces which use the metal brackets in conjunction with elastic ties which hold the wire in place. However we do not use these conventional braces as that are older technology and the entire procedure associated with it is cumbersome, painful and demands frequent visits to dentists on regular basis. With the advances in dentistry, there is introduction of more improvised braces called self-ligating braces, which we use in our clinic. They help to align and straighten the teeth without any elastic or metallic ties and are smaller in size. Instead they are designed with frictionless sliding mechanism which holds the wire in place and decrease the friction between brackets and wires, thereby aiding in more quicker and comfortable teeth movement compared to their counterparts. Absence of elastic bands makes cleaning easier and helps in maintaining proper dental hygiene and reduces chances of dental decay up to significant level. Overall self ligating braces are more comfortable and deliver faster treatment compared to the traditional braces. For image conscious patients, Damon ceramic braces often come with an option of clear brackets which merges with the natural tooth color.
We also provide the option of lingual braces in which the metal brackets and wires are attached to the inner side of the teeth making them virtually invisible. They help in achieving straighter smile without having to compromise on your looks. Despite being aesthetic, lingual braces however are time consuming, may cause difficulties in cleaning, more frequent dental visits required and expensive as compared to self-ligating braces.
We use wide variety of wires like Nickel Titanium, Thermal NiTi, Reverse Curve NiTi, Damon Cu NiTi, Stainless Steel, Post Aid, A.J.Wilcock, TMA, CNA Beta3 and tooth coloured wires to give utmost comfort level and maximum treatment outcome to our patients. The high-technology shape-memory wires require less adjustment and ultimately decrease the chairside time.
The latest and the most convenient way of aligning the teeth are the aligners which are alternatives to the traditional braces. Aligners are transparent invisible removable plastic trays. They are fast, painless and no dental visits are required. They can be snapped in and out of the mouth at will, owing to their removable nature and thereby one can maintain hygiene. We use the world's best brands of aligners like Invisalign® to produce excellent results in comparatively lesser span of time.
Following is a guide to what you should expect and what care or precautions you should take while you have an Orthodontic Treatment with Braces is going on:
In some cases ulcers or soreness may occur in the soft tissues, especially lips & checks following placement of orthodontic brackets. Please contact us immediately so that we can prescribe some medication for relief from pain due to ulceration or soreness and also the ways to prevent them.
It is common to experience mild pain for approximately 3 days after an arch wire is placed on orthodontic brackets for the first time. If pain persists for more than 3 days, please contact us.
It is common to experience mild pain or discomfort for approximately 3 days after changing of new arch wire. If pain persists for more than 3 days, please contact us.
In orthodontic treatment, every case is a different case and the teeth movement and/or jaw growth modification required varies from patient to patient so the duration of treatment may vary widely depending on your case, on an average active orthodontic treatment lasts for about 1 ½ to 2 years and then 6 months to 1 year of retentive phase.
You may get rubber bands or orthodontic elastics which you have to change yourself. You will be demonstrated at our dental center on how to change the orthodontic elastics yourself.
After the active orthodontic phase there will be a retentive phase for almost every patient. During this retentive phase you will be given a removable appliance which you are supposed to wear for prescribed duration to hold the teeth in its orthodontically moved position.
If you don't wear retentive appliance for prescribed duration then there are chances that relapse may occur and the teeth may move to its original position again.
During retentive phase there may not be any food restriction and you can enjoy your food like how you used to before orthodontic treatment started.
What Care Or Precautions You Should Take
Continue brushing twice daily from the same day the procedure was performed. Good oral hygiene is a key to success of treatment.
You may require a special orthodontic brush to brush effectively and also an interdental brush to clean areas that the orthodontic brush cannot reach.
Rinse your mouth thoroughly with water after every meal.
Patient will have to follow a special guideline for dietary restriction to prevent damage and dislodgement to braces.
Most dietary restrictions include avoiding foods that are very hard or sticky like pizza, candies etc.
If any bracket gets dislodged, please keep it with you and contact us to get an appointment to get it re-fixed on you tooth from where it came off.
Keep your appointments regular and follow the scheduled given by your orthodontist, missing a lot of appointment can affect your total treatment duration and you may end up having an orthodontic treatment that lasts longer than discussed at the beginning of treatment.
If you have been prescribed any medication, take it regularly according to prescription and do not alter the schedule or duration of medication without consulting your dentist.
Perfect Dental® is the best dental clinic in Jamnagar and our team of specialist doctors is highly skilled and experienced best dentists in Jamnagar. We have a highest success rate of 97%.